aqua vitae
from Latin, meaning: "Water of Life". This was the name given to the first distillates made from wine.
Aqua Vitae Cocktails
by Alberto Benedicto
We are a group of professionals who love and enjoy gastronomy and cocktails. We are a different Catering Service, where we combine trust and tradition. In addition, we offer Gastronomic Consultancy, focused mainly on the Bar and Room Service.
Gastronomic Consultancy
We believe that learning is the best investment and we have the firm conviction that the pillars of success of a gastronomic company lie in the customer service and in the professionalism and training of its staff.
We can train you on how to serve a good coffee or beer perfectly, help you to reduce wastage, advise you on ergonomics and work efficiency, design a wine list according to your gastronomic offer and, of course, we can help you to create a different, fun and creative cocktail menu, using the most efficient avant-garde techniques.
Furthermore, if you need help in the kitchen, we collaborate with the best professionals in the sector (pastry chefs, bakers, grillers, cooks…).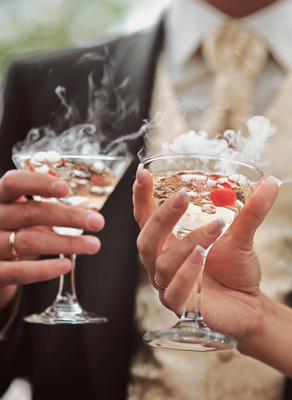 Surprise your guests with personalised and exclusive cocktails where we take care of every single detail. What better way to welcome your guests than with a cocktail bar and appetizers, or with a specially designed cocktails ​corner​ after the banquet. This way the experience of your family and friends will be unforgettable, just like your wedding.

The best of any celebration is always the company and the atmosphere, but if we also toast with a good cocktail, we will enjoy a unique moment. Birthdays, anniversaries, end of career, stag or hen parties…. It doesn't matter if you celebrate the party in your house or in a private property, we take care of everything! All you have to do is enjoy yourselves.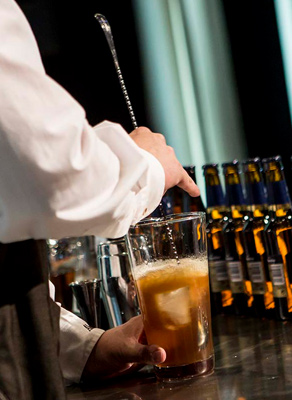 Are you going to inaugurate a small local shop? Is it the anniversary of your business? Are you going to present a new product? We take care of the drinks! We take care of everything: we will create personalised cocktails to help you enhance your brand and corporate image. Don't worry and enjoy with your clients and friends.

Do you want to introduce a new product or give more visibility to your brand? Count on us! We design the best cocktails to enhance your product, whether it is a distillate, a syrup, a mixer, a juice or even any kitchen product that we can pair with a cocktail, in order to enhance its aroma and flavour. Many brands trust us to organise their events.