In 2014, Alberto Benedicto, founder of Aqua Vitae Cocktails, decided to take part in the Gipuzkoa Cocktail Championship, which he won, and from that moment on he started to be asked to organise different cocktail events, so he began to create and train a team of professionals to provide an exclusive and personalised service for the different events that were requested. They were requested from weddings where special cocktails were created according to the tastes of the bride and groom and served in totally themed bars depending on the type of decoration that was in the rest of the restaurant.
They also began to be requested for small private events such as birthdays, anniversaries, dinners and lunches with friends… As well as corporate events such as the San Sebastian Film Festival, or the presentation of new products/seasons of local businesses, or pairings of dishes and cocktails in different restaurants and congresses. And of course, they were requested for brand events too, where each cocktail was designed and created according to the brand and event that was being held, in order to reinforce the brand image and the message that the brand wanted to convey. This is how Aqua Vitae Cocktails came into being, one of the largest cocktail caterers in the north of the country.
Let's toast… "Don't invent, steal, cheat or drink… but if you must invent, invent a better world; if you must steal, try to steal a heart; if you must cheat, cheat death; and if you must drink, drink the moments of unforgettable happiness".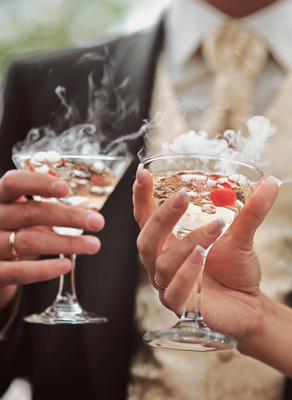 Surprise your guests with personalised and exclusive cocktails where we take care of every single detail. What better way to welcome your guests than with a cocktail bar and appetizers, or with a specially designed cocktails ​corner​ after the banquet . This way the experience of your family and friends will be unforgettable, just like your wedding.

The best of any celebration is always the company and the atmosphere, but if we also toast with a good cocktail, we will enjoy a unique moment. Birthdays, anniversaries, end of career, stag or hen parties…. It doesn't matter if you celebrate the party in your house or in a private property, we take care of everything! All you have to do is enjoy yourselves.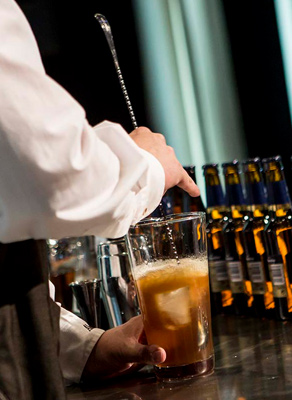 Are you going to inaugurate a small local shop? Is it the anniversary of your business? Are you going to present a new product? We take care of the drinks! We take care of everything: we will create personalised cocktails to help you enhance your brand and corporate image. Don't worry and enjoy with your clients and friends.

Do you want to introduce a new product or give more visibility to your brand? Count on us! We design the best cocktails to enhance your product, whether it is a distillate, a syrup, a mixer, a juice or even any kitchen product that we can pair with a cocktail, in order to enhance its aroma and flavour. Many brands trust us to organise their events.